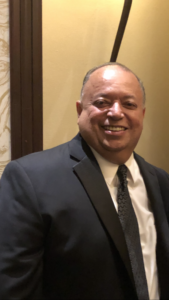 Michael Carr was born in Newark, New Jersey. He graduated from Malcolm X Shabazz HighSchool. Mike is a graduate of St. Augustine's College in Raleigh, North Carolina. He hasreceived a degree in Sociology, Social Welfare and a minor in Criminal Justice.Michael moved to Staten Island in 1983. He was appointed to the New York City PoliceDepartment. His assignments included Community Policing, Task Force, Warrant Investigations,Anti-Crime, and Criminal Investigations. He received the Cop Of The Month Award in October of1999 and in January of 2002. The Staten Island Advance and Chamber Of Commerce honoredhim, for his community service. Mike served twenty years with the Police Department receiving twelve Excellent Police Duty commendations and three Meritorious commendations before retiring as a Detective in January of 2004.
Michael is currently working as a Community Outreach Coordinator at Staten Island University Hospital Northwell Health. His responsibilities include serving as a liaison to the community for the purpose of creating improved channels of communication and needs identifications. He promotes wellness through creating programs that enhance health and education in the community. He enhances partner relationships through serving on community-based committees and partnering to produce health care programs. Mike is a community resource, frequently going the extra distance to improve health care access, whether it is through identifying providers, locations, educational programs, grants, insurances, or health information.
Michael is a member of the Executive Board of the NAACP and Chairperson of the Health Committee, a member of the Staten Island Partnership Committee, and serves on the Hospitals' Community Advisory Board. He previously served on the Staten Island Council for Alcohol and Substance Abuse and the Gear Up Program at the College of Staten Island.
Michael has been awarded the Community Service Award from Stapleton U.A.M.E. Church, the Public Service Award from Central Family Life Center, Inc., Certificate of Recognition for Public Service from Senator Diane Savino, Certificate of Merit for outstanding community service from Assemblyman Matthew J.Titone and the Council City of New York Proclamation for his public service from City Councilwoman Debi Rose.
Michael is married to Valerie Carr, they are the proud parents of Michael Joseph, who graduated from Delaware State University with an Aviation Science Degree. He is a New York City Police Officer and assigned to the Aviation Unit as a pilot. In 2017 they received the Black Family Award from the National Council of Negro Women,Inc..